Today the Bank of Canada announced a pause in their rate hikes, leaving its policy unchanged. Which also means no change to current mortgage payments if you have a Variable Rate Mortgage.
The central bank followed this announcement with a statement, saying that they are "prepared to increase the policy interest rate further if needed." which will be data dependent and we have two more rounds of reporting to come before our next announcement on Oct. 25, 2023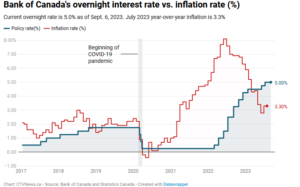 Canada's annual inflation rate ticked back up to 3.3% in July from its 2.8% the month before. The Bank of Canada warned that they expect inflation to be higher in the near term thanks to rising gasoline prices.
The Q2 slowdown in output reflected a "marked weakening in consumption growth and a decline in housing activity, as well as the impact of wildfires in many regions of the country. Household credit growth slowed as the impact of higher rates restrained spending among a wider range of borrowers.
Canada's labour market has also lost some of its steam: the unemployment rate has been on the rise for three consecutive months.
BMO chief economist Douglas Porter said the Bank of Canada's decision to hold its key rate was widely expected given recent weak economic data, and the focus now turns to what the central bank might do next.
Porter says economic growth will likely continue to stall over the next few quarters, making a recession a possibility.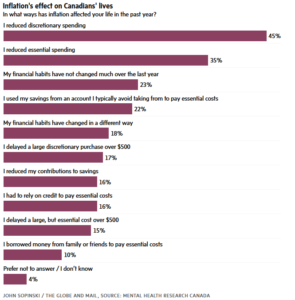 "We might not fall into the official recession definition, but it's going to be a close run for sure," Porter said.
Financial struggles brought on by inflation and higher interest rates are damaging the mental health of more than half of Canadians, with many reporting high rates of anxiety over housing and food, according to a poll released Wednesday by Mental Health Research Canada, a charitable organization. Almost a quarter of respondents – 24 per cent – said they have gone into debt as a result of inflation. Meanwhile, 23 per cent said they are concerned about their ability to make rent or mortgage payments, while 37 per cent are struggling to adequately feed themselves and their families.
Are you struggling to make payments? Let's chat, we can review your current mortgage and situation and see if we can make any adjustments to bring ease back into your life.
604-552-6190
Trish & The Primex Team