The Bank Of Canada announced this morning to keep their key overnight rate of 4.5%. As the Bank is still waiting to assess the impact of its previous eight consecutive rate hikes.
Previous Bank of Canada announcement also decided to keep the current interest rate. But It was threatened that it was conditional, making it clear that they will be ready to raise interest rates further if inflation doesn't come down quickly enough.
Most forecasters expected the Bank to leave its key lending rate at 4.5% this Wednesday morning. Investors seem to agree, with trading on the overnight swaps market indicating less than a 10% chance of a change. But CIBC chief economist Avery Shenfeld says the bank may add cautionary language to its announcement that it could restart its inflation-fighting rate hikes again.
The Bank of Canada says they expect the annual inflation rate to fall to around 2-3% by mid-year. However, the poll suggests that inflation is still running at 5.2%, well over twice the BoC's 2% target.
In March, the BoC became the first major central bank to stop its aggressive hiking cycle and is currently on a conditional pause. A majority of forecasters in the Reuters poll, 23 out of 31, believe that the rate will remain unchanged for the rest of 2023.
The BoC Deputy Governor Toni Gravelle said the Canadian banking system had a well-earned international reputation for stability, suggesting that policymakers are more focused on inflation and how the economy is performing.
Have questions about today's announcement? Don't hesitate to contact us at the office at 604-552-6190. Or you can CLICK HERE to book a quick call to review your mortgage!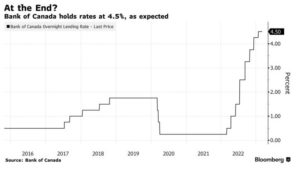 Trish & The Primex Team