Yahoo!!  A second rate pause in a row!  The Bank of Canada (BoC) left the overnight target rate unchanged which is what affects your banks Prime rate.  That means there is no change to interest rates or payments for Variable Rate mortgage holders and those with loans or lines of credits attached to Prime.  This is some good news after 10 rate hikes since March 2022 by the BoC in their attempt to cool consumer spending.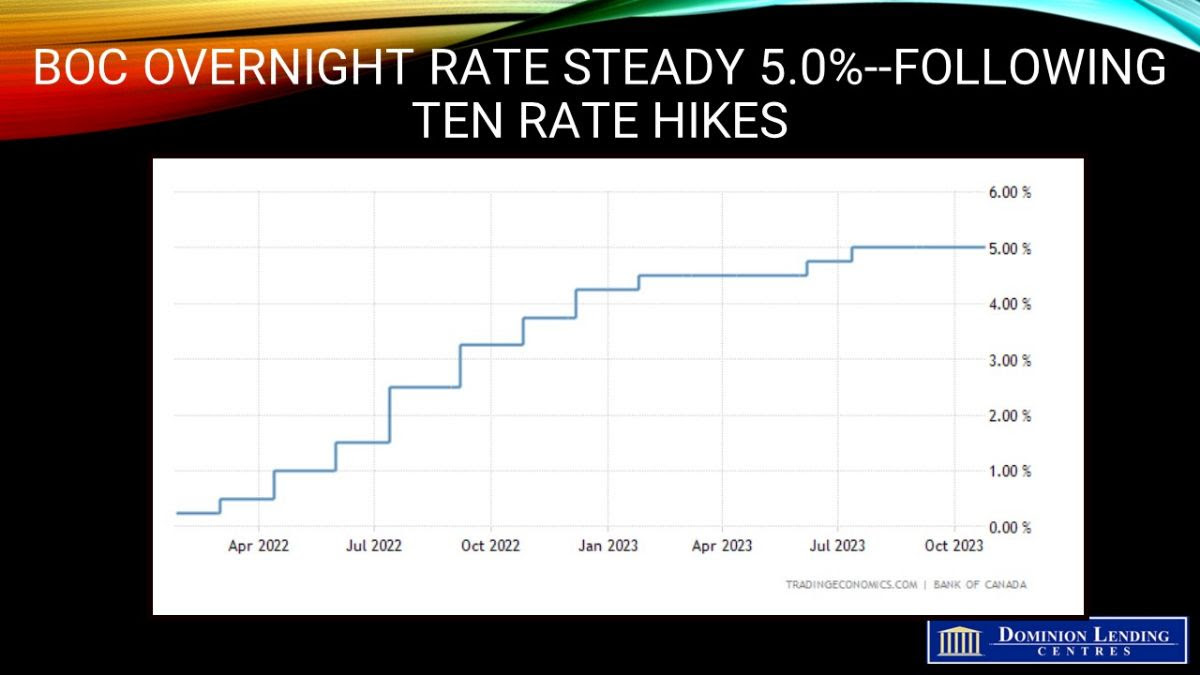 Inflation numbers came in lower in September which helped support this decision and the hope is that we see rates come down as planned sometime in the middle of next year.

The central bank's next decision is due Dec. 6, after two releases of jobs data, October inflation numbers and third-quarter gross domestic product figures. We follow some of our favourite analysts in Canada and Dr. Sherry Cooper is DLC's very own, Sherry's comments "I expect the Bank to pause rate hikes for the next six to nine months. When they finally begin to ease monetary policy, they will do so gradually, taking the overnight rate down to roughly 4% by the end of next year." 

We will welcome her positive outlook above which would mean that your current Variable Rate would drop by 1% at the end of next year.  More and more we have clients opting back to the Variable Rate mortgage rather than shorter term fixed rates as the difference between today's 3 year fixed rate and today's variable rate is very close.  All it would take is one rate drop (.25%) next year and that would put their rate lower than the 3 year fixed for the balance of the term.

Our job in our office is to provide you with all options surrounding interest rates, lenders and products, everyone is different so don't get caught up in listening to people that may not know your situation, do what's best for you and your family. I would be happy to look at your current situation and put options together for you, whether you are purchasing, refinancing or renewing your mortgage term. Don't navigate this process alone, let us do it for you at absolutely no cost to you. Email me by CLICKING HERE.  Or book a call with me HERE.

If you want to read Sherry Coopers full press release on today's announcement, CLICK HERE!

Have a wonderful rest of the week!

Trish
Want to see what Current Rates look like? CLICK HERE

Also, ask us about our unadvertised promotional rates that you may be eligible for as well!

This blog post is apart of our newsletter. Join hundred of homeowners who trust our newsletter to keep them informed by CLICKING HERE.